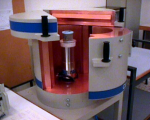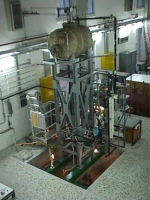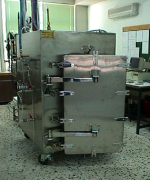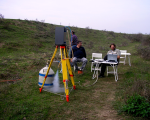 NTUA Nuclear Engineering Department Web Site
The Nuclear Engineering Department belongs to the NTUA School of Mechanical Engineering. The Department focuses on education and research regarding the fields of nuclear energy applications and related phenomena, technical applications of nuclear methods as well as the natural and man-made radiological environment.
Outdoor Radio-Environmental Conditions
Zografou Campus (
Measurement location
)
Last Update 11/03/14-21:06:49
| | |
| --- | --- |
| Radon Daughters Concentration | 4.8 Bq m-3 |
| Gamma Dose Rate | 49.0 nGy h-1 |
| Temperature | 9.5 °C |
| Relative Humidity | 60.1 % |
| Atmospheric Pressure | 994.6 mbar |
Latest News
Dedicated Symposium for Mike Philippacopoulos - August 10-11, Drosopigi, Konitsa, Greece
August 06, 2012
The NTUA community is invited to attend the Symposium in memory of Dr. Aristodimos (Makis) Philippacopoulos: A tribute to his pioneering work in Earthquake Engineering and Structural Mechanics, to be held in Drosopigi, on 10-11 August 2012. More information on the main NTUA web site.
New paper in press
November 16, 2011
A new paper, titled "Phosphoric acid as Uranium complexant in kinetic phosphorimetry" has been accepted for publication in the Journal of Radioanalytical and Nuclear Chemistry. More information is available in the Publications section.